Baby L is due to arrive in June.  That made it time to get out the standard baby blanket pattern, which, come to think of it, made its debut with soon-to-be Baby L's older brother, who will be two in September.
I've made some changes since that first blanket.  I do not hand monogram any longer.  That is an exercise in patience I don't need to undertake again.  Instead, I machine monogram in a fun color. (My monogramming method involves a zig-zag stitch, not a monogram machine.)
This was the first time I used satin blanket binding instead of making my own bias binding.  My mother reminded me how much my brother and I liked the satin blanket binding on our blankets when we were children.  I couldn't disagree, so satin binding it was.
I love the colors of this blanket, which do not really come through in this photo.  The schema came to me in a dream (no kidding!)  I woke up and emailed my friend. "I want to find some material that has to do with space, or the galaxy!  And the backing should be a royal purple!"  And lo, we found purple-tinted space fabric.  Fabric Depot really is amazing.  I also like the green flannel backing, which nicely sets off the purple of space.  Picking out white as the binding color was the hardest part. We tried many colors, but white worked the best.  I'm sure it will be stained immediately, but such is life with children.
I also love the monogram, which is some odd font that utilizes a rectangle and a triangle to make the letter L.
The material was purchased a few months ago, washed and neatly folded.  I then made a step-by-step plan to complete this project.  I figured it would take me a few weeks once I got going, because that's how it usually goes.
But it turns out that satin blanket binding is supposed to be zig-zag stitched on a sewing machine.  Previously, I would get everything cut to the right size and laid out, then attach one side of the bias binding to the edge, then press and spend a couple of hours invisible hemming the other side.
Not satin blanket binding.  It was a couple of hours of zigzag sititching. And then I was done.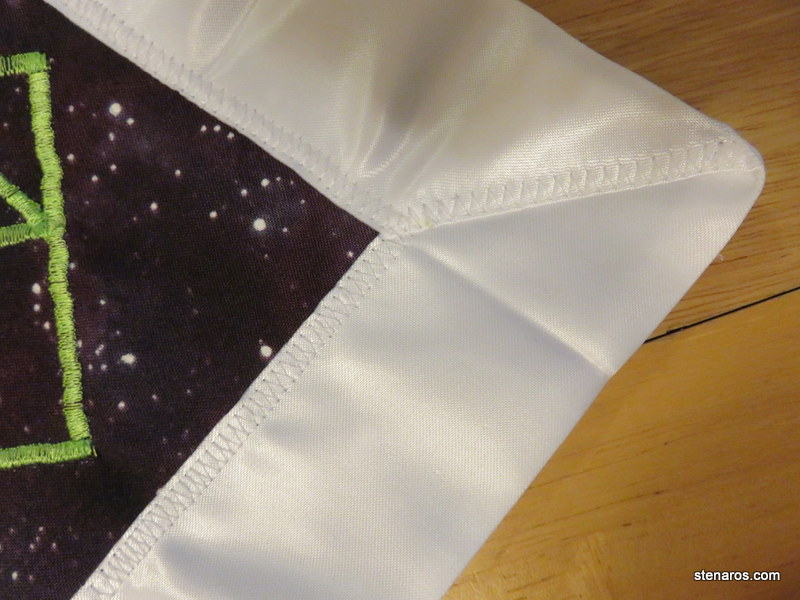 I don't love the look of the zigzag, partially because I didn't have any extra material to test tension on, which meant I was trying to find the right tension as I went. I failed, so it's not an even zigzag.
Also, it doesn't line up on the backing.  There's an edge I don't like.
Still, I made this in a day.  And it looks really snazzy.  Overall, I'm pleased.