There was a little bit of nearly everything this month, including poetry!  I love months with poetry books.  Perhaps I should make them more of a priority.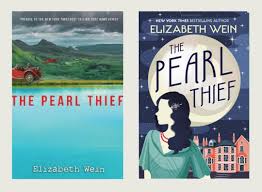 (This was not the book cover picture I thought I was getting.  But it does give you a chance to compare and contrast the British/US covers.  I prefer the US cover, on the left.  But the British one is nice too.)
Picture books: A tie between Tell Me About Sex, Grandma, and Yours Sincerely, Giraffe, neither of which really fit the picture book label, but I can't be having 15 different labels each month.
Middle grade: A Crack in the Sea
Young adult: The Pearl Thief
Young nonfiction: One Last Word: Wisdom from the Harlem Renaissance
Grownup nonfiction: You and a Bike and a Road
Adult fiction: Attachment
Tell me about sex, grandma
A. Higgenbothem
Read for Librarian Book Group
Aside from having a great title that practically begs everyone to pick up this book, it's also a wonderful conversation between grandmother/grandchild about that thing that all children are curious about.  The art is delightful, and I particularly appreciate grandma's cool pants.
Blue Sky, White Stars
Baberhous, Nelson
Read for Librarian Book Group
Great illustrations of the United States we love.  Some of the text didn't flow for me.
Yours Sincerely, Giraffe
Iwasa Takabatako
Read for Librarian Book Group
I'm a great fan of epistolary stories, so of course I would be delighted by this story of Giraffe, who writes a letter and sends it off.  Penguin writes back and so their delightful correspondence begins.  This early chapter book is funny.
Town is the Sea
Sydney Smith
Read for Librarian Book Group
Beautiful picture book which takes place in a Cape Breton mining town.  I suspect this will win many awards, due to the librarians going ga-ga over it at book group.
Clayton Byrd Goes Underground
Rita Williams Garcia
Read for Librarian Book Group
There was so much to love about this story:  the frustrating and unfair way his mother dealt with Clayton's grandfather's death; how a child grieves; love of jazz music; the grandfather/grandson relationship; the mother/son relationship; the father/daughter relationship.
And then it seemed like Garcia had filled her allotted amount of pages and things wrapped up much too quickly.  It was as if a living, breathing story was hurried to its ending before it could come to its natural conclusion.  This was disappointing.
A Crack in the Sea
H.M. Bouwman
Read for Librarian Book Group
Combining the middle passage experience of slaves brought to the US, with the post-Vietnam War boat people experience? No problem.  It totally works in this tale that mostly takes place in the Second World, a place that can only be accessed once in a great while.
This is not only a story full of tales, it's also a brother/sister tale of adventure and exploration.  I loved this book.
The Pearl Thief
Elizabeth Wein
Read for Librarian Book Group
A prequel to the stellar Code Name Verity, this takes place several years prior and features Julia Beaufort-Stuart's summer adventures.
I have a friend who loves to read British mysteries set at boarding schools between the wars.  This nearly hit all of those preferences, just missing out on the boarding school aspect. Although the miss was a close one.  Julia is home for the summer from boarding school.  Also, her home is being turned into a boys boarding school, as her grandfather has died and his estate is being liquidated.
This book begins with a wallop to the back of the head (Julia's) and a summer of trying to unravel who hit her, and why.  As with all of Elizabeth Wein books, there are a treasure trove of details packet into a tightly woven narrative including freshwater pearls, the history of the Travelers/Tinkers, and general class injustice.
Now that this exists, I'm not entirely sure which book should be read first. If one begins with Code Name Verity, this book will have an emotional resonance it wouldn't have had.  But maybe it's best to start here, and tread slowly into the Verity waters?
The Lines We Cross
Randa Abdel-Fattah
Read for Librarian Book Group
I'm not familiar with Australia's anti-immigrant movement, but the sentiments are not very different than what is expressed in the USA anti-immigrant movement.  In this book, the son of a prominent "anti" becomes friends with a girl who is a Muslim refugee from Afghanistan.
I found the prose to be clunky at times, but this is worth the read, both for the aspect of a teenager's awakening (my parents believe X, do I also believe X to be true?) but also for the refugee perspective and the many hard places refugees find themselves in.
The Whole Thing Together
Anne Brashares
A brilliant and engaging premise.  Sasha and Ray share half sisters, but have never met, due to the terrible divorce between Sasha's father and Ray's mother.  They also share a bedroom at the beach house the divorced couple continues to occupy.
There are a lot of mid-chapter point of view shifts in this book that I found distracting.  And I wasn't fond of how Brashares chose to wrap up the story.  It seemed too convenient, as in: "I'm tired of writing this story and need to be done."  Still, the idea of two kids more or less the same age occupying the same space year after year, and yet never meeting was a winner.
One Last Word: Wisdom from the Harlem Renaissance
Nikki Grimes
Read for Librarian Book Group
Grimes pairs poems written by Harlem Renaissance authors with new poems written using the Golden Shovel method.  In this method, the author takes a line (or lines, or sometimes an entire poem) and writes a new poem using each word from that line as the end word of the line.
My brain boggled that such beautiful poetry could come from this method.
Fred Korematsu Speaks Up
Atkins, Yogi
Read for Librarian Book Group
Graphic novel true story of one man who refused to go to the "relocation" camps during World War II.  Great for people who might need to be reminded about the United State's shady history with justice.
You and a bike and a road
Eleanor Davis
Davis chronicles her bike ride from her parents house in Tuscon, Arizona to her home in Athens, Georgia.  Quick drawings and spare text are employed for maximum benefit.  There's a bit in Texas that deals with border crossing that was done remarkably well.
Attachment
Rainbow Rowell
Read aloud with Matt
I enjoyed this re-read. This makes our second Rainbow Rowell read aloud.