We took another Portland Hill Walk, but I did not know the Lower Macleay Trail was closed for renovation.  Instead of taking that red line back to where the car was parked at 29th and Vaughn, we took the very long detour which is the blue line that runs below the solid red line of the Lower Macleay.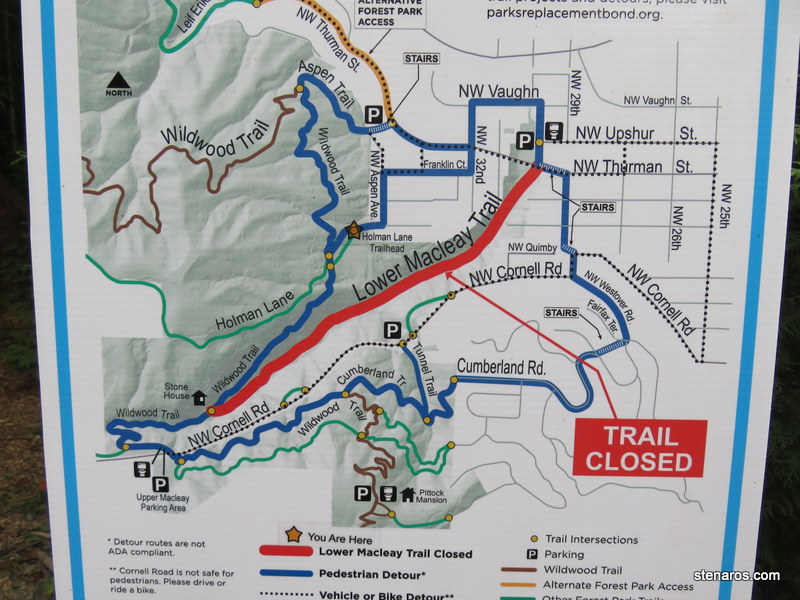 However, it did take us by this building, the Historic Fairmount Apartments.  I'd been wondering if anything had changed with this building.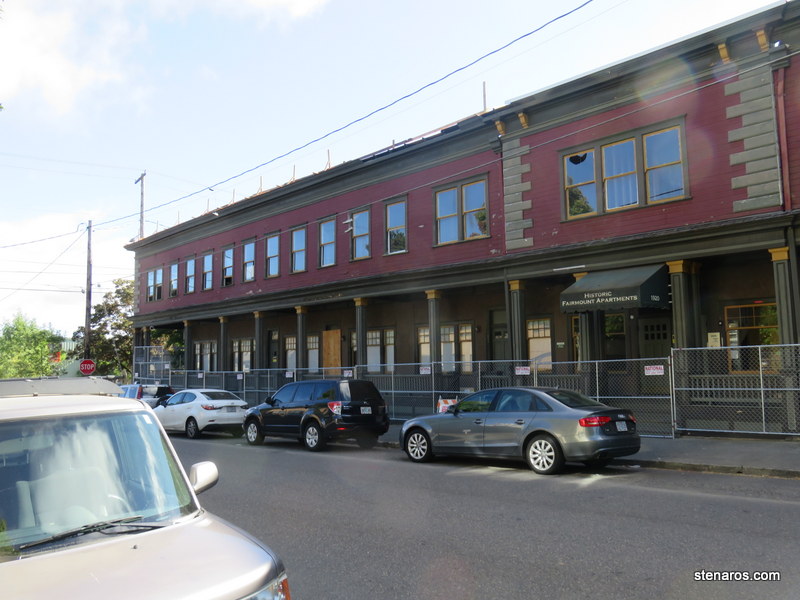 Back in 2002, when I first moved to Portland, I secured a job with a company.  I'd been living with my aunt, which made it much easier to get established in Portland. With a job in hand, I started looking for studio apartments and I toured the Fairmount Apartments.
It was great!  For $275/month (or maybe even less?) I could get a studio with a shared bathroom in a building that was built as part of the Lewis & Clark Exposition. (!!!!Cheap!!!!Alternative living arrangements!!!!!Historic!!!!!) I was about to put in my application when the company rescinded their offer. By the time I found another job, an apartment came open in a co-worker's building and I ended up in the more expensive ($500/month) and also delightful Rosefriend Apartment (now sadly gone.)
But I wondered if such cheap lodgings were still available in this building. When we walked by, I guessed that they they were no longer for rent.  I crossed my fingers that the chain-link fence didn't mean the whole building was coming down.
Good news!  According to UD+P's website, this building will be renovated.  To quote:
Over the next year, the property will be overhauled with new plumbing and electrical, a new roof, and new landscaping—all while preserving the historic charm of the Fairmount's beautiful brick exterior. The renovated Fairmount Apartments will have approximately 80 modern units, all with private bathrooms, with street-facing entrances for many first-floor units.
The smaller-than-average square footage of the units will allow for cheaper rent than is typically found in comparable downtown Portland apartment buildings. This will help to set up The Fairmount Apartments as a viable choice for those who wish to live in a well-appointed historic building without the expensive rent associated with larger, similarly located apartment units.
Score and score!  While I remain skeptical that "cheaper rent" will translate into "amount of rent I could afford to pay today" I really appreciate what they are attempting.
Estimated date of completion is Summer 2018.  I wish them good luck.
Also, here's a quote from a DJC article about the situation when the building went up for sale in 2011
The apartment complex has about 80 units – 26 with either one, two or three bedrooms on the first floor, and 54 studios with shared bathrooms on the second floor. The studios start at around $300 per month, a near rock-bottom rent for Northwest Portland.
So it seems that yes, until 2011, the super cheap rent was still available.