Having spent a comfortable night in our yurt at Cape Lookout, we drove north to Ecola State Park for some hiking. Ecola has some very good views.
Some might wonder why we drove a couple of hours from where we were staying, a place with many hikes, to another place for a different hike. This has to do with the fact that Tillmook Head is not in–or near–the city of Tillmook, or even in Tillamook County. I didn't realize this when planning the vacation, and so a lengthy drive it was.  It's okay. We got a lot of reading done from the read aloud books. (Matt read, I listened.)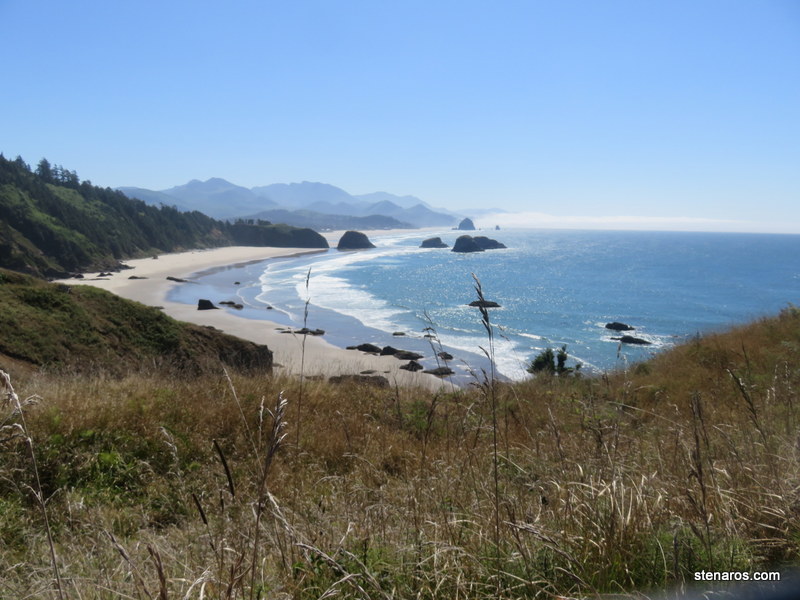 Here we are with the ocean. Things you can't see: the many tourists on either side of us, also looking at the ocean and taking photos.
The Oregon Coast is crazy beautiful, and we heard the people around us speaking all sorts of different languages.
We then drove a bit more to the Indian Beach trailhead area where we started a hike up to the Tillamook Lighthouse viewpoint.
At the beginning.
We hiked along quite nicely, and it was only when we got to the Hikers' Shelter that I realized we'd already done this hike.  It was 2012 and you can refresh your memory here.  We had better weather this time.
The non-zoomed view of Tillamook Rock Lighthouse.
The zoomed view!  I'm quite glad I wasn't the lighthouse keeper for this lighthouse.
Matt indicates this is our second go-round.