It was a stellar month for YA.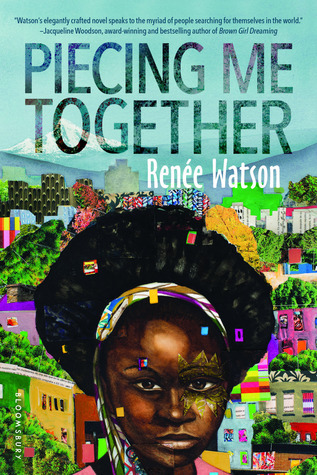 Picture Book: None this month
Middle Grade: The Charmed Children of Rookskill Castle
Young Adult: Piecing Me Together; The Hate U Give
Young Nonfiction: Grand Canyon
Adult Fiction: The Underground Railroad
The Secret Project
Jonah & Janette Winter
Read for Librarian Book Group
The development of the atomic bomb!  In picture book format!
I think this story needs a lot of scaffolding.
Tony
Ed Galig/Erin E. Stead
Read for Librarian Book Group
It wasn't apparent to me I was reading a poem, and I found myself puzzled by the writing throughout and also by the ending.  It took reading the book flap to clarify things.  Even with clarity, I found that there wasn't much there for me.
The Charmed Children of Rookskill Castle
Janet Fox
Read for Family Book Group
The second reading was nearly as fun as the first for me.  The family book group was all over the place in their reviews.  I had the highest rating of the adults, with an 8.  The kid average rating was 7.0046, the adults' was 6.575 for an overall rating of 6.770
On Edge
Gin Price
Five stars for a star-crossed story of a runner (parkour enthusiast) and a writer (graffiti artist).  I also really appreciated the urban Detroit setting.  Unfortunately, the stars start to drop as the story progresses.  The romance, while convincingly written, had a love-at-first-sight origin that was not really believable.  This was advertised as a mystery, but the mystery didn't get going until halfway through the book.  My largest criticism has to do with the actions of the person who did the deed.  That person is the epitome of a 1950's cliche and was not well received by me.  We've moved beyond that particular stereotype.
Nora & Kettle
Lauren Nicole Taylor
1950s historical fiction about a Japanese American orphan trying to make his way in Brooklyn after being released from the "relocation" camps.  He crosses paths with the daughter of a civil rights lawyer who is  abusive toward his family.
The writing is crisp and vivid, and the characters complicated and sympathetic.  There is a well-placed warning at the beginning. The scenes of domestic violence are brutal to read, and some of the experiences Kettle has are difficult.
This is a good addition to the post-war historical fiction cannon.
The Lonely Hearts Club
Elizabeth Eulberg
A girl, terribly hurt (emotionally) by her boyfriend, decides to give up boys for the rest of high school.  Her friends join her, and the club grows.  Overall a good quick read, though I there were a few detractions.
My high school had the exact same law-and-order/sports-oriented principal depicted in this book, yet I found it incredibly hard to believe he would even take notice of a band of girls forming their own club, much less be so vindictive.  There was also a scene of assault that was swept under the rug in a way that I did not feel fit at all with the sentiments of the club.
Piecing Me Together
Renee Watson
Read for Librarian Book Group
I'm interested in why Renee Watson sets her books so firmly in Portland and changes some, but not all, of the names.  As a Portland reader, it's maddening.
Other than that, this book was exactly the kind of book I love. It gave me the opportunity to live in Jade's life, which is a good life, and hard life.  Watson is a master at depicting the good/hard blend.  I particularly appreciated parsing the complicated feelings that come with being picked for the organization that will give you exposure to things you don't get to experience, due to your reduced circumstances.
Aside from that, I loved the complexity of Jade's friendships.  I'm a huge sucker for a romance, but those stories are plentiful.  Because of that, I really love coming across a coming-of-age book with a character I adore whose growth and change has nothing to do with finding romantic love.
Allegedly
Tiffany D. Jackson
Read for Librarian Book Group
One of those gobble-down books.  What would the life of a nine-year-old alleged murderer be like?  The details were fierce and disturbing.  I was all in, until the author pulled the rug out from under me with the ending.
The Hate U Give
Angie Thomas
Read for Librarian Book Group
I loved this book unconditionally. I love:
**Starr Carter, one of my favorite characters this year
**How the book shows the terror of being the bystander in a police shooting.
**How complicated the details of the shooting are.
**How complicated and nuanced Starr's life is–kind of like how real life works.
**Starr's family, especially the relationship between her parents.
**How this book was sad and weighty and difficult, but also delightfully funny.
**How Starr experiences sorrow and joy, and maybe even in the same day.
**That this book was in a 13-way bidding war
I don't love that while I was reading this book, a young man of color in my hometown was shot and killed by the police.
If you are looking for a zeitgeist book for 2017, this is your book.
City of Saints & Thieves
Natalie C. Anderson
Read for Librarian Book Group
It took me a while to put my finger on what was off about this book.  I found the story and characters engaging, and the pacing was quite good.  But I never really felt like I was in Kenya.  I think more smells and descriptive sights would have grounded me more in a sense of place.
Other than that, it was a good book.
Grand Canyon
Jason Chin
Read for Librarian Book Group
Jason Chin brings a sense of wonder to this books.  I loved the tour through the geologic ages of the Grand Canyon.  And that's saying something, as Geology is one of those Zzzzzzzzz topics for me.
The Underground Railroad
Colson Whitehead
The realistic depictions of slavery combined with the alternate-reality version of pre-Civil War US made this book a big win.