It's time to bid this house goodbye. Portland Maps tells me it was built in 1941, is just over 3,000 square feet, and has two baths. It's a pretty little house built in that storybook style right before midcentury took over. There are great examples of this in North Portland between Ainsworth and Rosa Parks. This one is low key, but still there.
Here's a sunny-day picture I grabbed from Google Maps
This property is being deconstructed, of course, because it's on a large lot in an area near transit where it makes sense to build multifamily units. As we can see this lot will have two buildings (a cheat by the developer to avoid the affordable housing edict) and have 30 total units and no parking.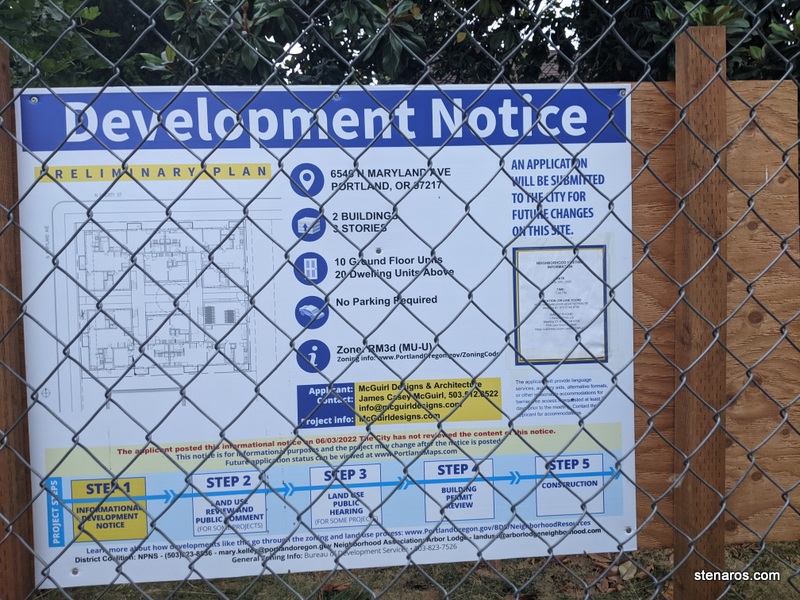 The section of land bordered by the Interstate Fred Meyer to the North, Rosa Parks to the South, I-5 to the west and Interstate to the east, is slowly being converted to a solid tract of multifamily units with no parking. As I've said before, I think this is a mistake and makes for dangerous street conditions for walking, biking, and driving.
This property also (I think) hits a new milestone for this blog. It sold in March of this year for a cool $1,000,000. It's last sale was for $399,000 in 2010, and it was an affordable $181,560 in 2001, when I first moved to Portland.
Goodbye little house. I will miss your fairy tale charm.