Here I am modeling the Hunger Games Sweater.
It took knitting it to nearly the end, trying it on, realizing it was too small, then ripping out and starting over, but I have completed this project!  I can now stop obsessing about the Hunger Games Sweater, seen on Katniss at the beginning of the second movie.  This is not exactly the same thing, but it's in the style of .
 You can see the back view too: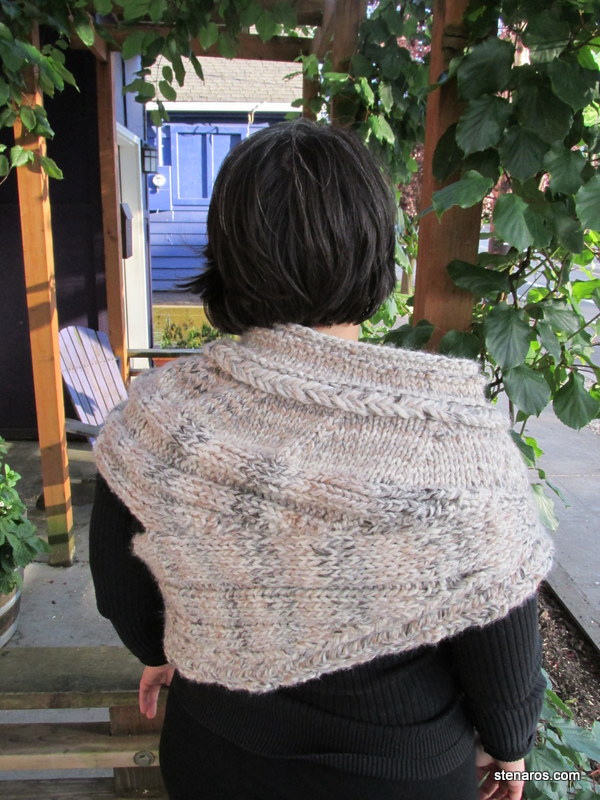 The thing about the Hunger Games Sweater?  It's great for shooting a bow and arrow as I demonstrate here.
The problem is, I don't shoot bow and arrows at all.  I most walk around and, because I'm short, reach up for things, as demonstrated here.
Sadly, what happens when I do that?  The sweater rides up over a certain protrusion and I have to pull it down.  So I don't know how long this Hunger Games Sweater will be in my wardrobe.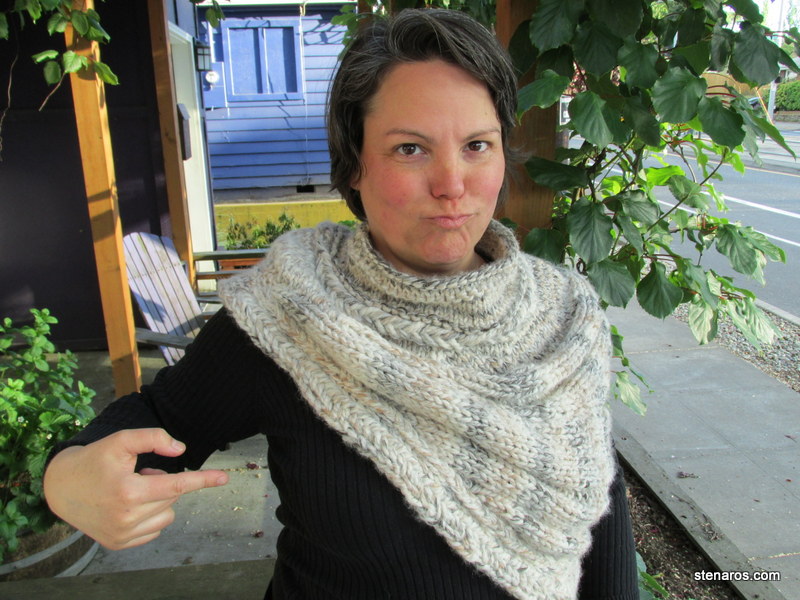 Here's the yarn I used.  I had 30% off that price listed. I spent $39.37 on yarn and $9.99 on the pattern. The pattern called for too much yarn.  I still had a skein and a half left, even with making the pattern bigger than the biggest size.
It's properly called District 12 Cowl.  Copyright by Kristina Morrissey.  The pattern was pretty easy for me to follow (I consider myself an early-intermediate knitter) and knit up quite quickly, which is why I didn't mind ripping everything out and starting all over again.  With a 42″ bust I found the largest size in the pattern was still too small for me, so larger women will have to make the pattern bigger, but I did that with few problems.
Media consumed while knitting:
Treme, Season 2
Downton Abbey Season 5
Austenland
What's Up Doc?
The Art of Getting By
Agent Carter Season 1
Something Wild
Winter's Tale
Fast Five
12 Years a Slave