Having procured an ebike, it is now time to send my trusty blue bike to a new home. I called my local bike shop, Kenton Cycle Repair, and the following conversation ensued:
Me: Hi, this is Patricia Collins and I'm wondering if I can bring my bike in to see what needs to be done and also get an estimate of what I could sell it for?
Rich: Are you the owner of that really great GT step-through mountain bike?
Me: That's the one!
Rich: Well, I'm sorry to hear you are selling it, but yes bring it in and we will take a look.
Color me amused that my local bike shop owner has matched my bike to my name. I explained why I was selling it and made plans to bring it in.
Here's this winner, one last time.
When I got there Rich said it was in great shape, which wasn't a surprise since I had it tuned up in February 2020 and then was laid off, so bike commuting went out the window. He then told me I could probably sell it for more than he was offering but offered me a chunk of store credit that was $25.00 less than I was hoping to sell it for.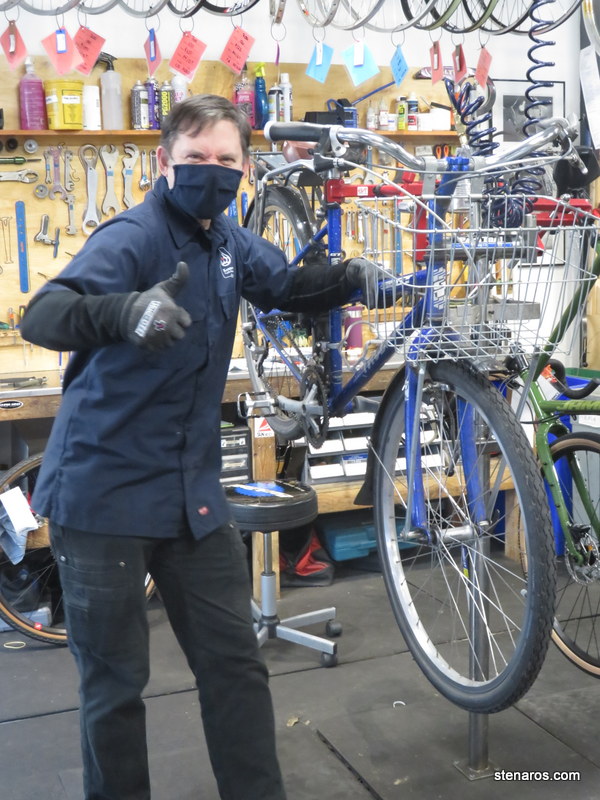 I left the bike with Rich, confident he would find it a good home. When I asked him why he liked that bike so much he said that they just don't build them like this anymore.
It's been a good decade-plus with the blue bike. We've had some solid adventures and I hope the new owner also loves its many charms.