For more than nine years I worked for The Emerson School and for more than nine years I did recess duty at the playground across the street from the school. I've watched kids play every imaginable game in this space. I've sat with a child stuck in the play structure while the firemen came with the jaws of life to move the steel enough so she could pull her leg out. I've watched kids year after year play the game where they try to catch falling leaves in the autumn and try to catch whirling seed pods in the spring.
And now the playground as I knew it is no more.
The steel play structure and the swings came down first.
But the object I called the ziggurut needed to be sledgehammered bit by bit.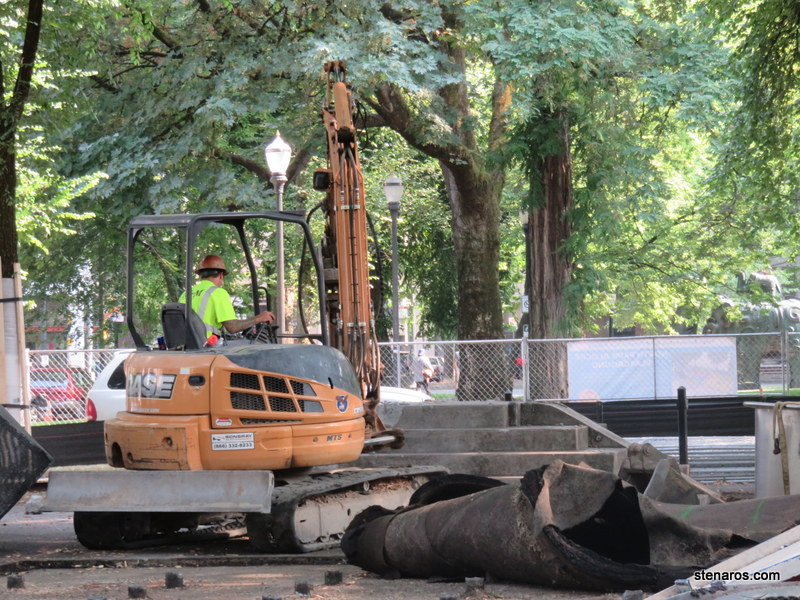 They pulled up the soft landing material.
And broke up all the concrete.  This cupola-type object was a top the ziggurat. Kids who were good climbers would like to hide in the peak, wedging themselves in all four corners, Spider-man-style. They weren't allowed.
So far this lamp is staying.
It looks like they're going for a totally clean slate, as evidenced by these large hunks of concrete.
I'm not sad to see the playground being revitalized. It was built in 1990, which was my sophomore year of high school, which was a long time ago. It's had a good run and now it's time for a new way for children to play.
Also, because The Emerson School has moved to a new location, this doesn't affect how recess will work. They've been talking about redoing the playground for years and it was always a bit of a conundrum, trying to figure out an alternative place for the children to play.