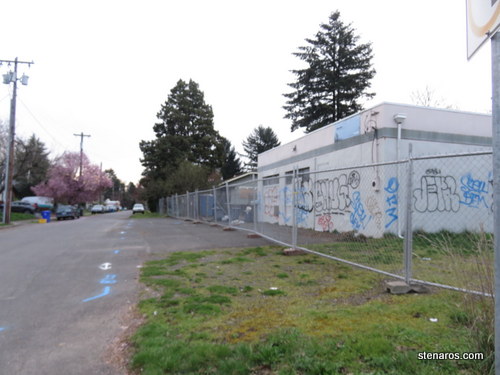 It's become a familiar sight in Portland. Chain link fence anchored by cement blocks surrounding an unused building or house. Soon the space behind the fence will be transformed. The buildings or houses will disappear and something newer and taller will grow in its place.
Here's what Next Portland reported on 3/29/2016:
Early Assistance has been requested for a project at 8106 N Interstate Ave:
Proposal is for a new five story building with 120 apartment units including 64 group living units with shared kitchens. Proposed 33% parking ratio minus a 25% bike parking reduction will be provided in an undergrd garage.
And here's what it says on 4/20/2018
Early Assistance has been requested by Habit for Humanity for a project at 8124 N Interstate Ave:
More than likely – future code -with not a lot of impact to the site/project by the changes: New construction of 30 units of multi-dwelling housing development. It will be two (2) 3-story buildings to be constructed in two phases. All units will be sold as permanently affordable condos through the City of Portland preference policy. This project is to move through the GATR fast-track process with oversight from PHB.
So we might be getting more permanently affordable condos in the neighborhood. I live in one, so I should be the first to say Welcome to the Neighborhood.
I do worry about parking, though. Right now, our situation is good. Add 30-plus cars? Perhaps not so good.