Here's what I saw on my walk to Laurie and Burt's house.
We last saw this house in July, it having been stripped down to the just the front facade. It is now rising up again, adding a new level. I look forward to seeing the final product.
I gasped with joy when I walked around the corner and this beautiful mural came into view. I want a beautiful mural on my house too!
The Brigadoon House. I tell the story of this house in July 2014.  Short version: while partaking of my morning jog during my first years in the neighborhood, I found a house I loved. And then I couldn't find it again. Where had it gone? Had it been torn down?  Disappeared for 100 years? Eventually I figured out I was choosing the wrong street and the house was still there!
Today however, it was not.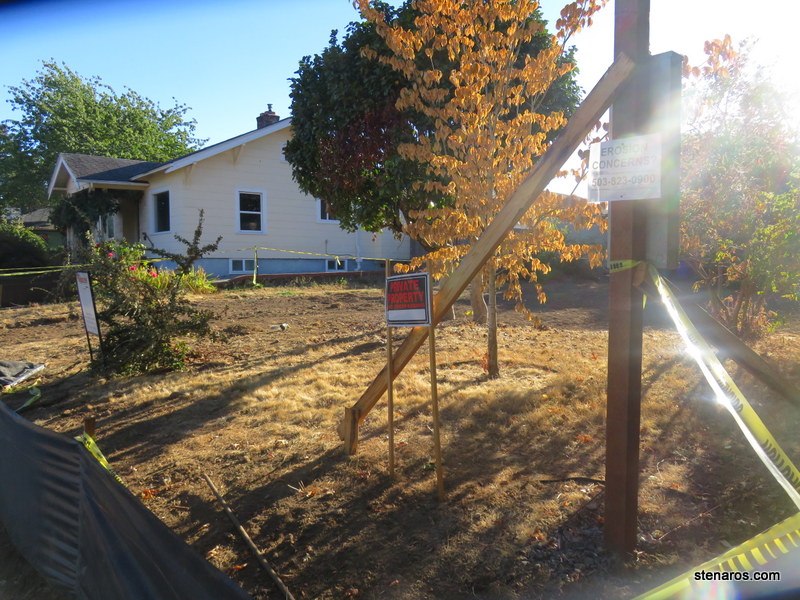 I hate to see houses like this go, because I love sub-1000 square foot houses. According to Portland Maps, this house (7033 N. Fenwick) is 480 square feet. Or was.  It sold for $150,000 in 2009 and–this is why we have so many homeless people in Portland–$285,000 in September of 2017.  
Fun PortlandMaps extra: historic plumbing permits, including one from 1942.
I will miss the Brigadoon House, and I'm sorry it did not survive long enough for me to buy and live in it.