I forgot to take a "before" the before picture, but it's time to change up my closet.  For years I've been looking at the space above the shelf in my closet and thinking that it is wasted.  Plus, I've been reading the Life-Changing Magic of Tidying Up by Marie Kondo, and she says you should throw away all your old letters and journals.  Marie Kondo and I disagree heartily about this, so I need a place to properly store such things. A place that is not a Rubbermaid Container that sits on the bottom of my closet, overflowing and taking up space.  Today, we utilize!
Here's me flat on the floor so I can take the before picture.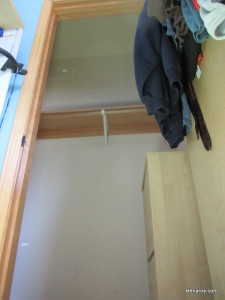 Above the door to the closet too!  That space can be used.
One trip to Ikea, 30 minutes of precarious balancing and drilling et voila!  Three shelves are now installed, bring the closet shelf total to four.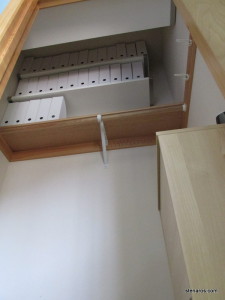 Then it was time for the purge, KonMarie style.  I put all of my clothing on the bed (she says the floor, but I ignored) and checked each item to see if I loved it.
Shoes too.
It turned out I did not love very many things in my closet and so bags were filled for Goodwill.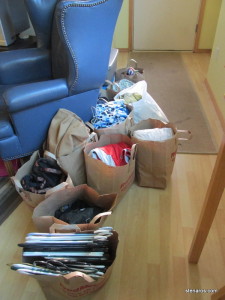 Here's the stack of things I'm coming for soon.

And here's the partially finished project.  I now have room for 30 magazine files, and my sewing machines are tucked away above the door.  The meager amount of clothing I have left has been carefully hung in the closet, or folded and put away.  And Tim Riggins has been restored to his place in the closet.

And look! The side of my bed is no longer taken up by a dresser, a laundry hamper, a yellow chair serving as a secondary nightstand.  Now there's a bed (awaiting clean sheets) and a nightstand.  It feels much more spacious, and now I don't have to sidle out of bed every day.
Even better? I realized that the awesome bottle brush lamp that sits on the top of my desk can easily sit on the dresser and now I have light in the closet!