I've got a three-ring binder of recipes. Sometimes it needs to be culled.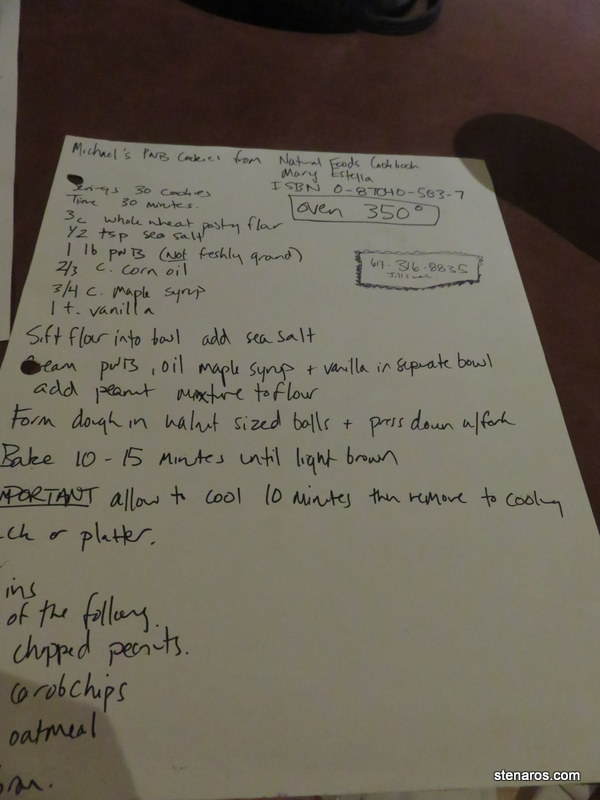 This recipe was hand copied from a cookbook my roommate had. It was back when I had to walk to the library, or use the copier in the grocery store, to reproduce something. Digital cameras were just getting started so most of the time it was easier to hand copy. I don't think I've made Michael's Peanut Butter Cookies since I left Massachusetts, so it's time to let this recipe go.
I did want to capture some other things that used to happen. Jotting my roommate Jill's work number on this piece of paper shows a few things. One was calling people at their place of employment used to be a thing you had to do if you wanted to talk to them during work. When I worked for Whole Foods in the late 90's the woman who answered phones hated how many personal calls she had to transfer. Though some people had cell phones, not enough of us did that they could make a blanket "no personal phone calls" policy. There was strong encouragement to only have friends and family call in case of an emergency. But we had to make our plans for our life outside of work, so calling people at work happened.
The other thing is writing phone numbers down. While I still do tend to copy phone numbers to paper in a pinch, the only reason to do that now is so I'm closer to my end goal of getting them into my contacts, an electric file stored in the GoogleLand and available on my phone.
Also back in the day, if you had a phone number and didn't know what it was for, you could go to the library and use a reverse directory to find its owner. I never did that, but it got brought up a lot in the era when caller-ID was first rolling out. Now, you google. This phone number seems to belong to something called TC Systems. I'm pretty sure that's not where Jill was working in 2000.
One more observation: incomplete doodle around the phone number. If I was talking with Jill, our call must have ended before I finished shading my wavy line.