We had a lot of places to visit so we started early.  Our first stop:
Roseburg!
We arrived just as the restaurant was opening.  That purple ball had the cephalopod on it we needed to find to get our shirts.
On to Eugene.  Laurie and Matt pose outside our first location.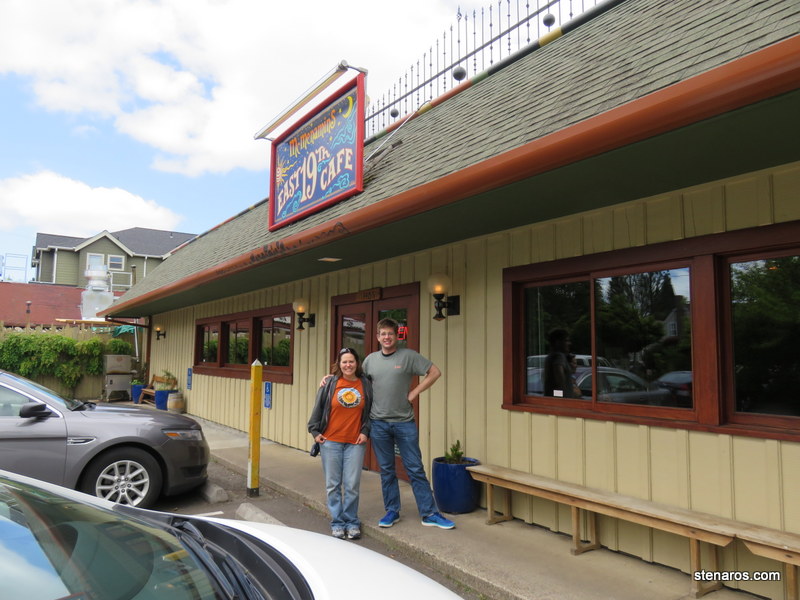 Visiting our second Eugene location (which was my favorite in this town)
Stopping at North Bank for two more stamps and our prize.
Our prize was a basket of fries or tots.  We also ordered lunch, which turned out to be a mistake.
You know you're in Eugene when the McMenamins has bike parking.
Onto Corvallis.  Our first location had this amazing sink sculpture:
The second location had an English Pub feel.  Here we collected our prize of one free appetizer each.
Next came Salem and this amazing historic house-turned-restaurant.
Our last stop in Salem.  Time to claim our prize:  sandwich or wrap of our choice.
Wisely, we took them to go.  While we were waiting, we sang happy birthday to Phoenix, an eight year old who covered his ears while everyone on the patio serenaded him.
Two pages in one day!