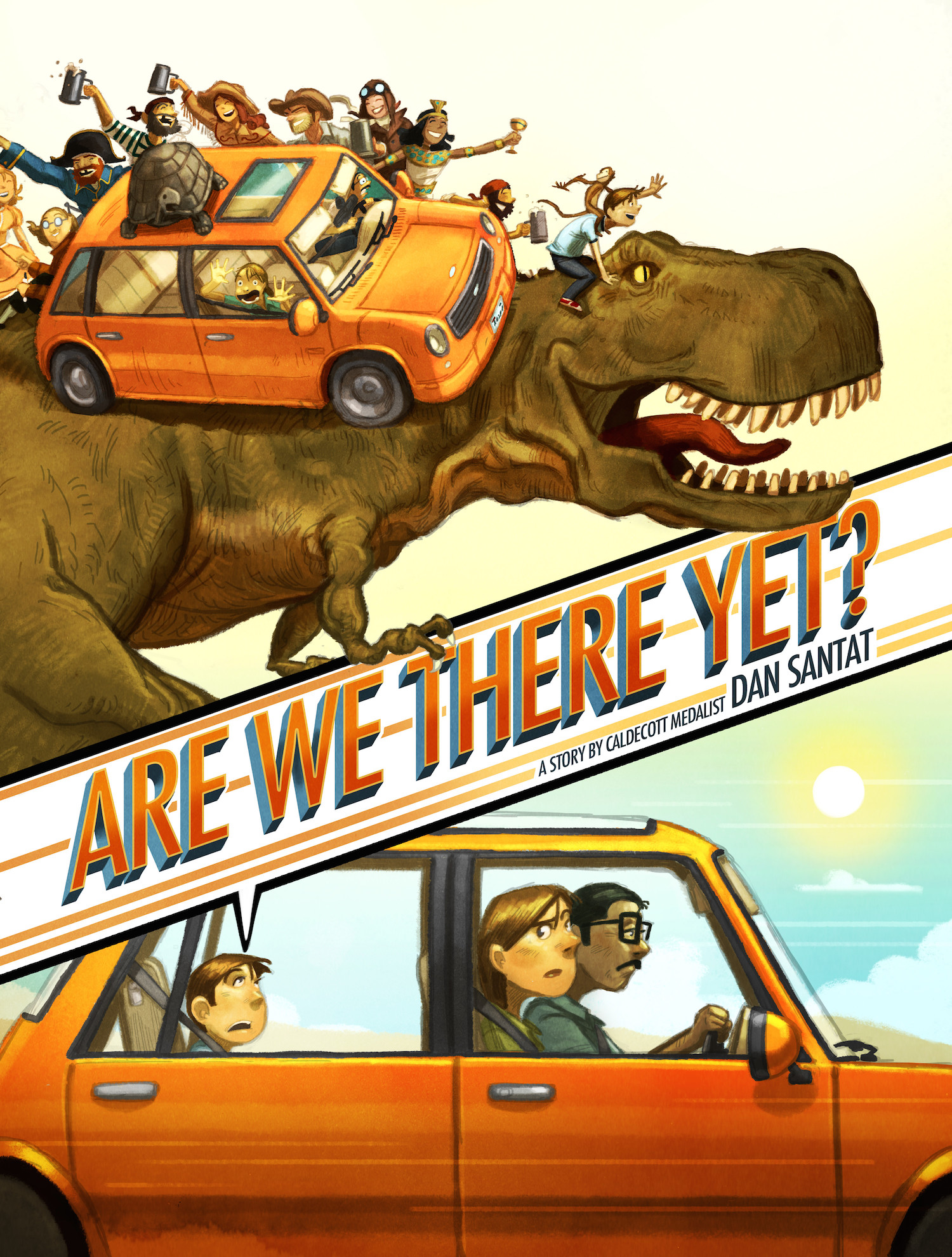 Somewhat of a lighter month for reading, probably because things were so busy. (Also not a month in which I'm head-over-heels about much of what I've read.)
Picture Books:  Are We There Yet? (and not because it's the only contender)
Young Adult: A Thousand Nights
Young Nonfiction: Wet Cement

Are We There Yet?
Dan Santant
Read for Librarian Book Group
Perhaps my favorite picture book so far this year, and so good I read it out loud to Matt.  We had fun scanning the QR codes and finding all the details.  Quite well done!
A Thousand Nights
E.K. Johnston
Johnston applies knowledge gained during several summers spent in the desert in this retelling of One Thousand and One Nights. While the narrative skipped right along, Johnston also included a ton of detail about village and palace life.  At times it reminded me of my enjoyment while reading the Red Tent.
The Great American Whatever
Tim Federle
Great title.  And cover design.  Good coming of age story about a boy, Quinn, who is mourning the death of his sister (and partner in movie-making crime).
Essential Maps for the Lost
Deb Caletti
The voice of the omniscient narrator did not work at all for me.  What did work was the portrayal of depression as the subtle sneaky bastard that it is.  Very nicely done Ms. Caletti.  Also, thanks for a reminder that it's been too many years since I read From the Mixed Up Files of Mrs. Basil E. Frankweiler.
When Green Becomes Tomatoes
Julie Fogliono
Read for Librarian Book Group
Quite good poems about the changes in the seasons, that also doesn't go for the cliche parts of the season.
Wet Cement
Bob Raczka
Read for Librarian Book Group
If you are only going to buy one poetry book this year, this is the one!  Wonderfully inventive use of words.  Incredibly clever.
Guess Who Haiku
Caswell/Shea
Read for Librarian Book Group
I did not find these haiku as amazing or creative as the author implied in the author note.  Illustrations were fine.
Fearless Flyer
Lang/Colon
Read for Librarian Book Group
"Oh! I hope there's a picture of Ruth Law at the end!  I hope, I hope, I hope!"  And there was!  Gripping tale (in picture book form) of an early pilot trying to set a long distance record.  The illustrations were softer than I would have preferred for the subject matter, but still effective.

The Shameless Hour
Sarina Bowen
Moving right along in the Ivy Series we step away from the hockey players, and instead follow Bella, the manager of the hockey team, and Rafe, a soccer player.  In this installment, we finally leave behind the F/inexperienced M/experienced trope for the slow-burn romance between the very experienced F and the very inexperienced M.  Uncomfortable stuff happens to Bella early on, which means there isn't a lot of hot sex in this book.  There's other good stuff, though.