A.K.A not long for this world.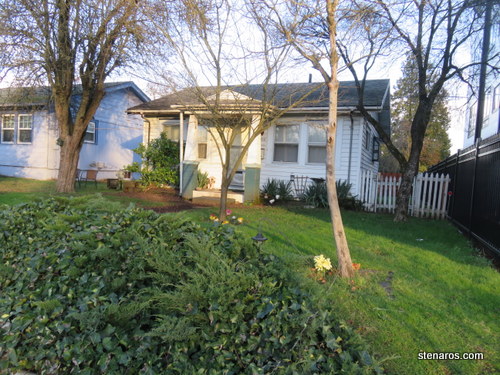 I love this little house, one of three on this block. It's 756 square feet and was built in 1926. The last time it was sold was in 2006 for $160,000. It's a rental, the owners live in Vancouver.
The woman who lives (lived?) here has yard sales multiple times per year. There is a new four-story apartment complex next door, and since this is zoned CM3, this lot could hold something up to six stories. (Although then you might also need to buy the two houses next door.)
Here's the asking price: $349,900. If the sellers get that, they will have doubled their money in 12 years. It's been for sale for some time, so I'm guessing the price will drop a little.
I include the picture of the sign so you can see someone has crossed out with a big "NO!" the words "with development potential." Since the MLS listing doesn't include any pictures of the interior of the house, I would be very surprised if this becomes someone's home.