Sara had an interview today on the University of Minnesota Campus, and so I wandered around until she was done.  Here are some things I saw.
Man, the Richardson Romanesque of this campus?  Amazing.  So many good details.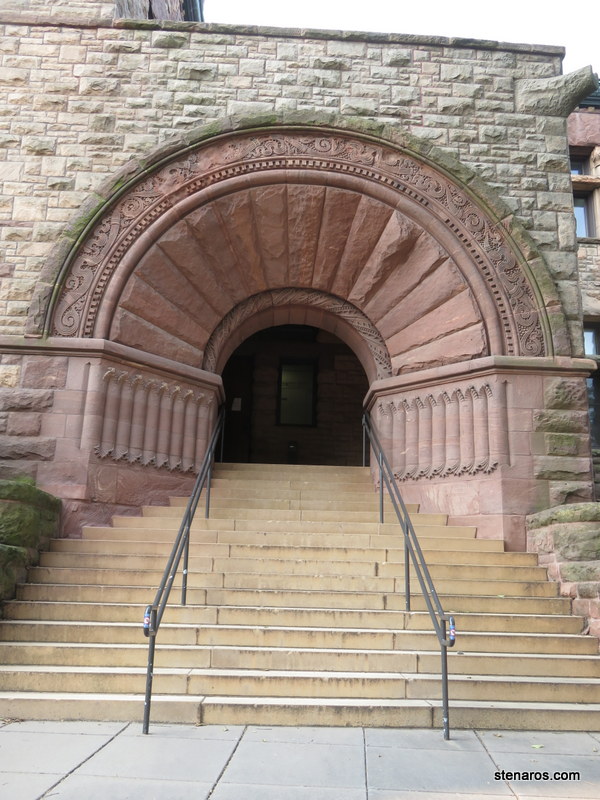 I heard this group coming long before I saw them.  I've never been in the kind of running shape to run with a group, but this looked fun.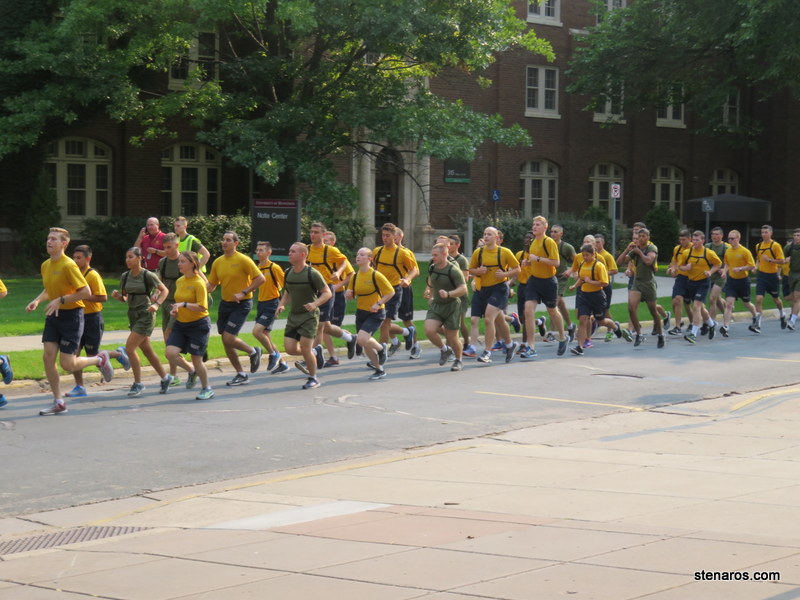 There's a big mall/quad area that has these red Adirondack chairs scattered around.  Quite lovely.
Outside Coffman Memorial Union was this formidable sign.
I wandered around Coffman Memorial Union. It's the student union. They had this great photo of TV time in the (presumably) 1950s, or early 1960s.
And look, you can still have TV time today.  I would bet there is a lot less newspaper reading, though.
I hung out with John Sargent Pillsbury for a while.
I wasn't the only one hanging out.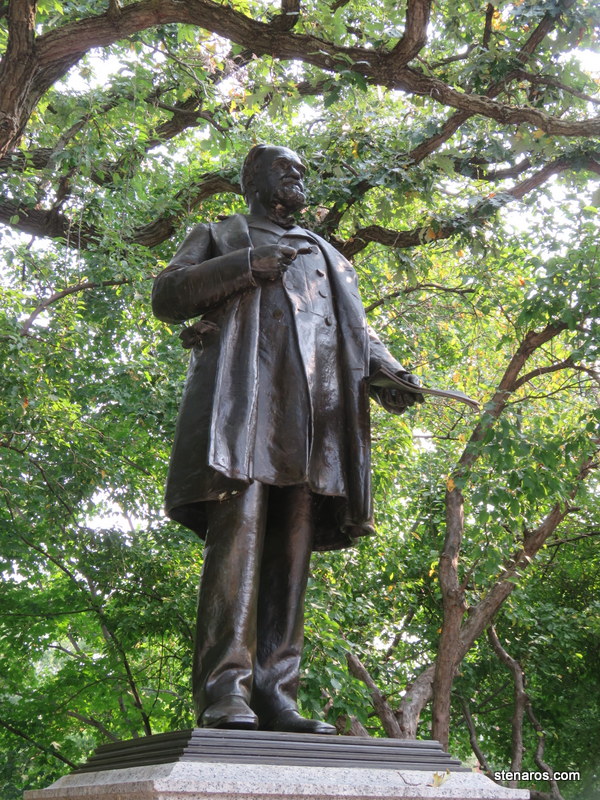 I enjoyed this person following the rules of the sign.
Sara & I walked across the Washington Avenue Pedestrian Bridge.  It crosses the Mississippi and joins the East Bank of Campus with the West Bank of campus.  And! The student clubs paint ads in it.  Here are some of my favorites:
Game of Thrones was a theme in many ads.

Being formerly Idaho girls, we easily spotted the Mormon club.
It's always good to have a good artist in your club.  Then your panel looks better.
Quiddich and a Yule Ball? Amazing!
And, oh my gosh, if this club had existed in my college days, I would have signed right up.
You can see that the SOBER club was lacking a full-artist-type person.  But they did a pretty good job with what they had.
Here she is.  The Mississippi!
And our next stop, the Weisman Art Museum. 
The museum had some good stuff.  I even found a platter on display made by my friend Sue, who participated in the St. Croix Valley Pottery Tour. That was pretty exciting.
And the Pedicord Apartments?  It rocked my world.  I loved it.
"What is that?" I said to Sara, while pointing.  She gave a shudder.
Inside, the hallway was super claustrophobic. The artists had used forced perspective very effectively.  Plus, there was goopy stuff all over the doorways.  I loved it!
And then I went back out and read the informational sign and it got even better.
When you leaned in to listen at the doors, you could hear what was going on inside the rooms.  Really creepy and incredible.  Highly recommended.  I spent some time figuring out what made the sound start when you leaned into the doorway.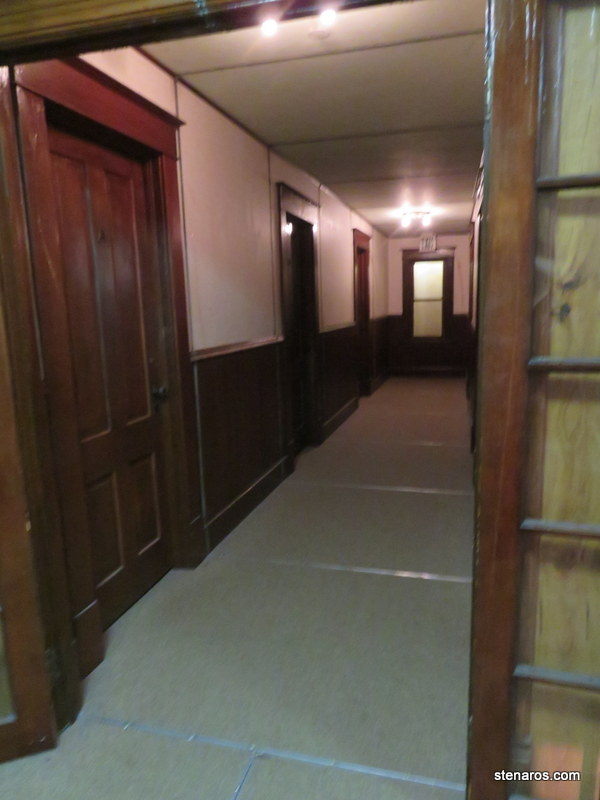 Here is more information about the piece.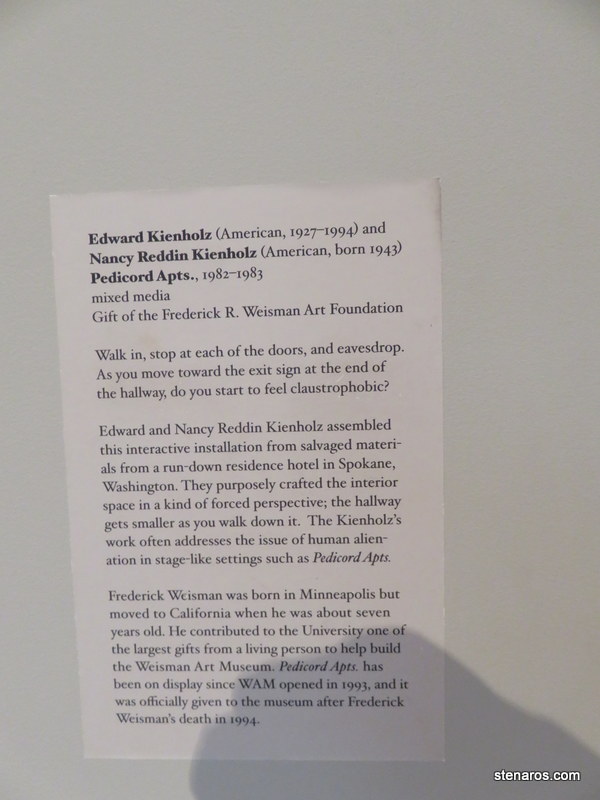 From a balcony at the Weisman we could take a picture of the Washington Avenue Pedestrian Bridge.  The light rail runs below the part we walked on.
We went in search of postcards, which afforded me this picture of these overalls, worn by enthusiastic students to games.  Earlier in the day, at the campus bookstore, I watched a guy trying a pair on.