Friend Heidi mentioned she had a pattern for a baby blanket and since I needed to make something for a soon-to-appear baby, she gave me a copy.  Here are the instructions.  Fabric in the City is no longer in existence, but it's nice that their pattern lives on.
If you are going to use this pattern, I will add my notes right here:
1/3 yard was not enough for 2.5 inch binding.  1/2 yard would have been better.
My four strips did not reach all the way around my material, as you will see.  I had to join pieces together.
For an excellent binding tutorial, including joining pieces, I used this link:  https://youtu.be/2egganTi2us
After you sew you binding to the blanket, go around an make sure that you have actually attached the three layers together.  I didn't do that and discovered two places where the binding wasn't attached.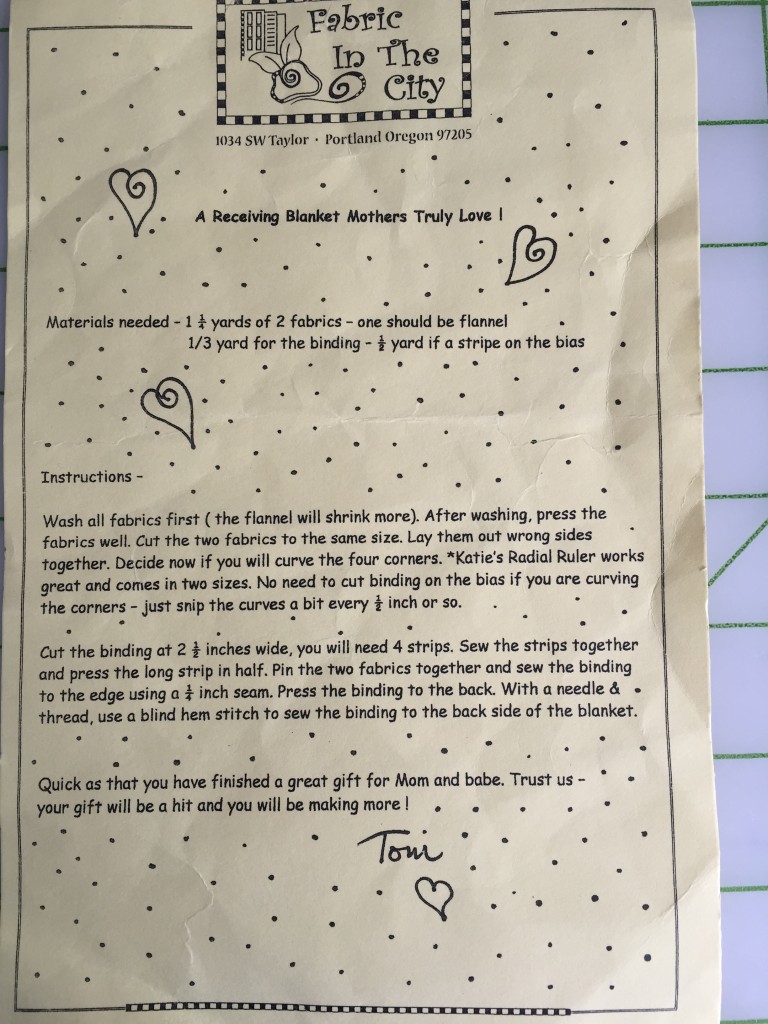 Here I have placed my two fabrics together so I can cut them to be the same size.

Before I got to this point, I added a satin stitch monogram to the green material.  I learned that satin stitch takes a very long time when you are doing it by hand.
At this point, I was disappointed to note that the ladybugs show right through the green material.  Harrumph.
Using my awesome quilters ruler to mark out 2.5 inch binding strips.
I used my Clover Chaco Liner Pen–another excellent product–to mark my binding strips.  At this point I thought, "It doesn't look like this binding will be long enough to go all the way around.  What would have been smart would have been to measure to find out the answer.
But what I did instead was cut out the binding to prove that it didn't stretch all the way around.  Feels so good to be right, doesn't it?  Then, unfortunately, that feeling dissipated because I was only left with the option to cut the binding strips in half.  So I went from 2.5 inches to 1.25 inches.  Trust me when I say that this makes a very narrow binding.
Other late-breaking conundrums.  I realized that with my smaller binding, I would now have to cut off the selvages.  I did this, and then had to re-trim the green material.
Here, I have pressed the binding in half and sewn it to the fabric layers.  I followed the directions on the link above, though I used a 1/8 inch seam, rather than 1/4 because I didn't have 1/4 inch to spare.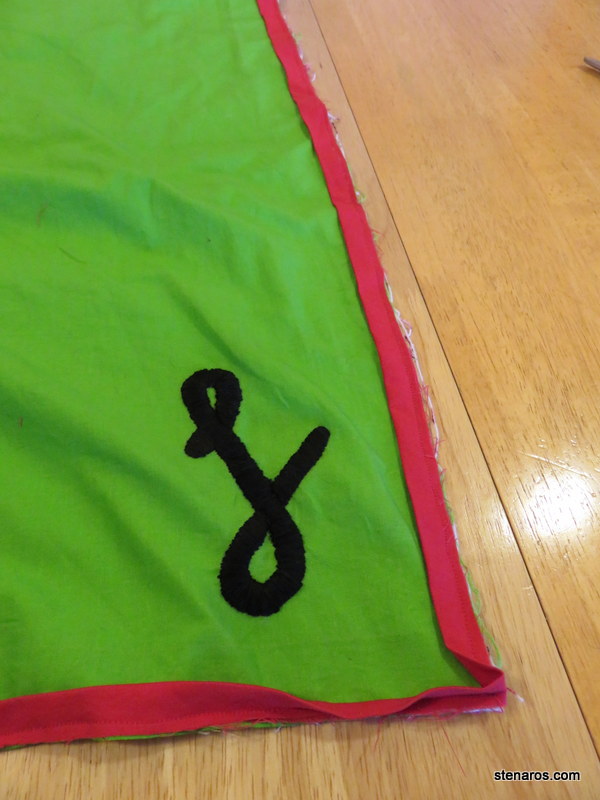 Then, because I didn't have 1/8 inch to spare on the other side of the seam line, I did a lot of tiny, careful trimming.  Trust me when I say I brought all this on myself by having to prove that the binding didn't go all the way around.  It would have been so much easier if I had just knocked my binding back to 2 inches.
Then it was time to hand-sew the other side of the binding to the blanket.  We will pause and read a few more movie reviews while I do this.