Grabbing these pictures now, because the Westwind Apartments are going down.
I love the blue accents against the stucco, dingy though they both may be.
I think lighter color buildings work well in Portland, and I find them especially cheering in the winter.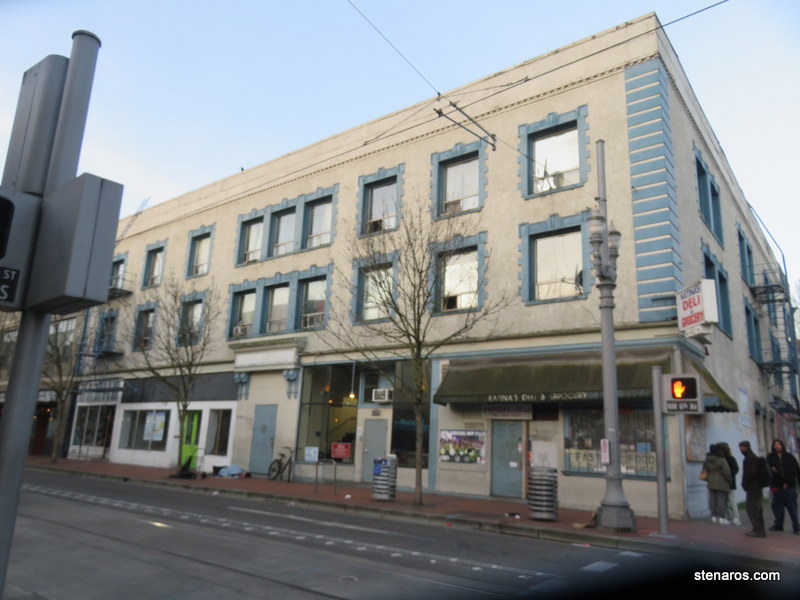 There must be a photo of the original entrence, which was probably much grander than the current incarnation.
What will be put on the site of the Westwind? Here's what my favorite site Next Portland says:
Construction of a new, 7-story, mixed-use building on a quarter block site. Project includes 100 deeply affordable units of permanently supporting housing, including 72 transient housing units (SROs) with PHB funding, and 28 studio apartments. It will also contain ground and second floor CCC Office space and community functions. There will be a small retail space at the northwest corner.

Next Portland
So that's, exciting, that the building torn down will house the same population it has been serving. This is funded by the housing bond we passed in 2016.
When I was looking for the name of the building, I found reviews on Google Maps. I thought I would drop them in here for posterity. The average rating for the Westwind Apartments is two stars. There are three reviews.
Spent 5 plus years at the Westwind. Interesting place, not for the faint of heart. A wide cross section of the down and out along former & soon to be street people again. Medical emergencies and police & parole officers frequently visit. Close to train, bus, local bus, metro light rail, with easy access to the metropolitan Portland area and the Ptl. Airport. Willamette River a few blocks away with its river side parks and walks along both sides of the river. Free food and services for those in need abound if one looks and asks question of the local residents. Many medical services nearby plus the VA Hospital and its services. China town nearby, much reduced from its former glory. Multiple temporary shelters in the area along with services such as food, shelter, training, referrals,. Downtown Portland core six or so blocks to the north, bus, light rail handy. Basic room, bed, sink, refrig, chair & desk plus overhead light. Common bathrooms. No elevator, three levels access via stairs. Parking on street, limited, very limited. Local parking lots with rentals spaces abound but a bit of walking necessary; Bring your own fan or air conditioner, radiator heating in the winter. Bring your own cell phone or use the lobby payphone. Local residents have cats and dogs, BUT! ask Management for permission !!! Rating ???. Well it was interesting, Be ready to wait for an open bathroom. Raymond J. Metzger, aka Doc. former apt #37

Raymond Metzger, posted c. 2013, three stars.
this place is overrun by cockroaches bedbugs Bratz junkies slumlords but slapstick maintenance workers highly overpriced and 555 months small room trashed dirty self centered on site management smack also shares the same corner as the worst gang bug hoodrat hugens so there crack on in the middle of Chinatown

jeremy Wolverton, posted c. 2016, one star.
It's better than being on the streets, old building, bad location, has a life of its own.

Cecil, posted c. 2018, three stars.