Blurry self-portrait, with bonus bra strap and detail of rear-view mirror tilter.
I was hoping for unseasonably warm, due to the fact we were staying at a lake.  But it seems I'm getting totally seasonable weather.  
It's always fun to see what this billboard has to say when driving on I-5 on the way to Seattle/points north of Portland.  (Matt took this picture)
Instead of the normal I-5 drive to Seattle, we took a turn toward our destination:  the Olympic Peninsula. It took us through Aberdeen, not only the hometown of one Kurt Cobain, but also the Gateway to the Olympics.   I'm giving those quotation marks the side-eye.
We weren't headed for the Ocean Shores (as inviting as those did sound) we were headed for Forks!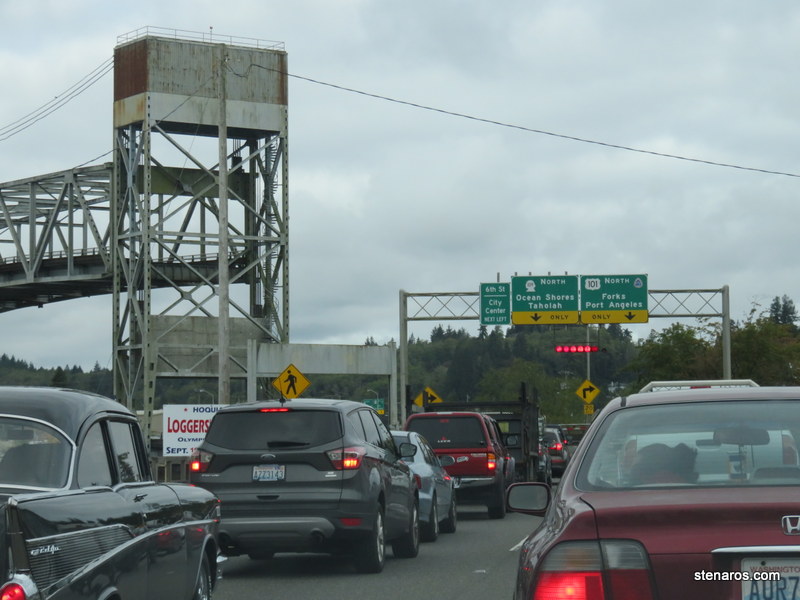 I drove, Matt read.  We were alternating between Emma Mills First and Then and George R.R. Martin's A Game of Thrones.
Our vacation area.  We stayed at one of the resorts on Lake Crescent. Which was inland a bit.
Our first hike was at Lake Quinault on the short Rain Forest Nature Trail.
Matt and a very tall tree.
It was many "Matts" high.
Greenery!  What the rain forest has in abundance.
This interpretive sign was placed so you could easily see the four types of tree.  See next picture.
That's Matt at the end of that hollow log.
Lots of stuff going on with the ground in a rain forest.
Matt in front of the Quinault Lodge.
We had to stop at this site, because a regular feature of the drive to the beach in Oregon is the World's Largest Sitka Spruce.  Oregon's specimen has suffered and is more of a stump now.  So let's see what Washington's has for us.
Looking tall!
Look at those stats! Who knew the American Forest Association awarded points?  And notice which state's tree was a co-champion?
Matt took a closer look.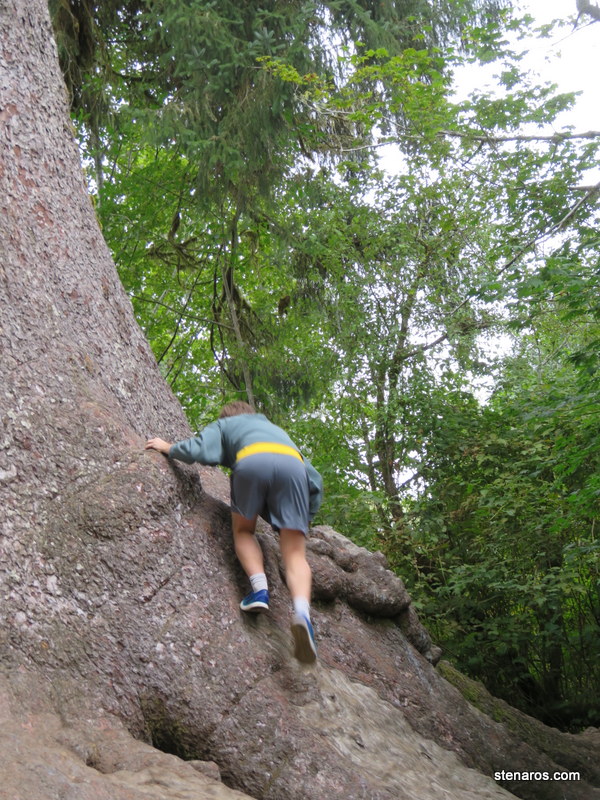 Big tree.  Can be measured in many, many, many Matts.
Our first view of the beach.
Big growth things on tree.
Not unlike Oregon beaches, this is full of driftwood.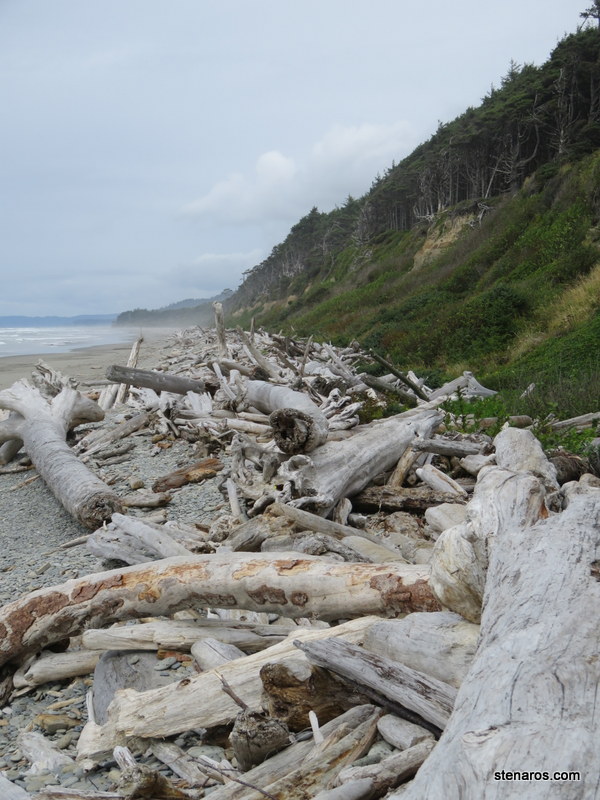 It was mostly empty too, with the exception of this couple, whose primary reason to visit the beach seems to have been so the woman could pose in a variety of places while having her picture taken.  Matt and I were there for 20 minutes or so, and the photo taking was nonstop.
Photos are still happening as we pose for a self-portrait.
I liked this little flower.
Our next hike of the day was Marymere Falls.   We left our weapons at home, so didn't have to worry about if we should take them on the trail or not. 🙂
Creek and greenery.
At the Log Cabin Resort, an interior view of our cabin.  It came with bedding which I wasn't expecting.